the bark is stripped
it is a terrible act of vandalism
every single tree we planted last summer has been terrorized
The cambium layer is the tree's "skin". How do you think this guy will do in the winter?
My wonderful honey locust.
it makes me sick
i could scream
When we first moved in here, I thought the wildlife was so incredibly charming! We even had a fox den in the backyard. (the momma fox moved her family when she discovered a German Shepherd moved into the neighborhood)
The deer were magical to watch! The does and their young would cautiously tip toe thru the streets and yards, the majestic bucks would parade around, commanding great respect. After fighting this herd for 5 years, I am feeling a little different about these beasts.
The deer hunting season opened Friday. I don't know how you feel about this, but I was thrilled! To think there would be fewer of these horticultural terrorists, made me sleep better. On Friday, my co-worker's son went out and got his first deer. He's 11 and shot an 11 point buck.
I've hidden a picture of Wyatt and his prize under this photo of Bambi, here:
I have asked Santa for a gun for Christmas. I could shoot deer like that from the comfort of my living room or dining room. I could shoot the European house sparrows, and the ground squirrels that have burrowed under my trees, the gophers that eat my bulbs.
Gracie tracks them, but needs someone to go in after those ground thieves, do you see the hole here? Gracie tries to go in after them, but I won't let her. Jeff put poison peanuts down the hole several weeks ago.
Several of my friends have offered to loan me BB guns, and I have tried to shoot something with a BB gun, but the BB lands softly in the middle of the yard, far short of the target. I need me a big ol gun, for shootin the animals that are tearin up my work.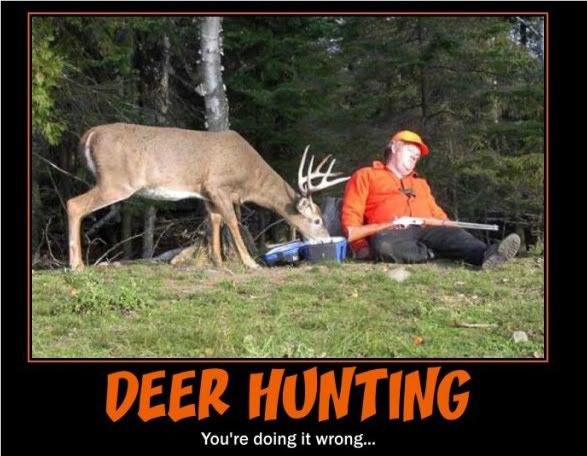 I've never shot or intentionally killed anything in my life. I cannot bear to look at the squirrels or raccoons that do not make it all the way across the road. I live in mortal fear that a deer will run out in front of my car. I saw the European house sparrows killing the nestlings of the Bluebirds, but I felt powerless to help.
I feel differently, now. The animals are ruining my hard work. They feel nothing about killing the trees, after all!
The bark is the protective layer of the tree. I can't see how the trees will be able to tolerate this type of damage, but I am hoping. That's all I can do.
Untill Santa brings me a shotgun or a sling shot or something...