This is what I found when I showed up to a store north of Rockford.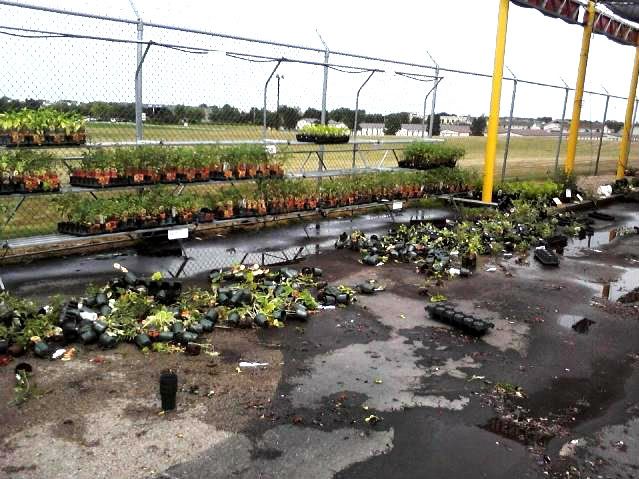 There were so many plants on the ground, I finally resorted to a snow shovel. I literally shoveled plants into a giant boxes on a pallet. For 5 hours.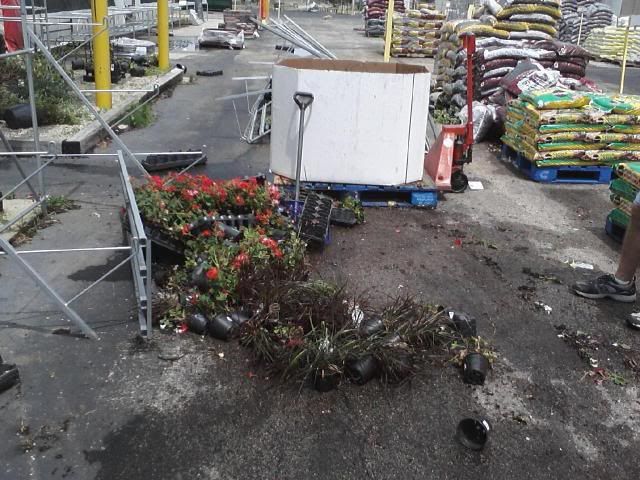 It was mass destruction, everywhere. I filled 5 of these big white boxes. I was so discouraged. Over 70 flats of annuals. Broken and smashed. All this Purple Fountain Grass. Ruined.
It was thickly humid today and my hair was soon a blonde afro. (Not an exaggeration)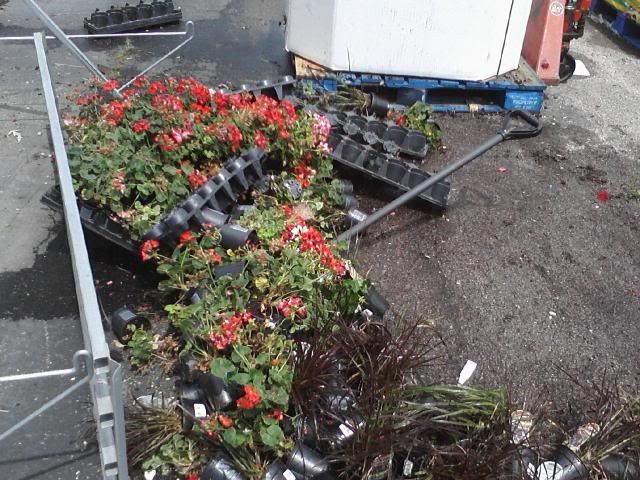 All these seed geraniums. Garbage.
I was poring sweat from every part of my body. My hair was sticking straight up. My bra was soaked and had left it's mark on my polo. My legs were splattered with planting mix, and my mascara had long left the party, choosing instead to run into my eyes and down my face. My face was a beet red, from exertion and the sun beating down on me.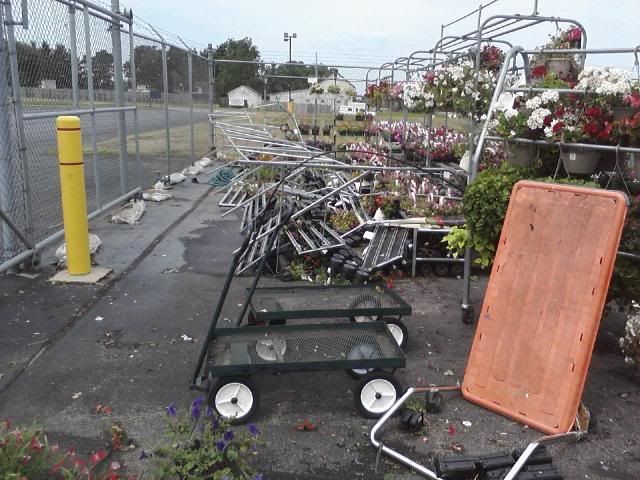 I picked up the twisted metal, sorted it and placed it on pallets.
Finally, the store sent a young man out to help me.
We sorted out the plastic, the metal, and the plants. Hours and hours of this.
As I was picking up the last of it, a customer came into the garden center, pushing past the sign that said "Due to storm damage, Garden Center is closed", and she began trying to pick plants out of the big white boxes I had tossed them in. She demanded we give them to her, for free.
"Seein' as you gonna throw 'em away, anyhow", she said. I didn't see any point in arguing with her, but she created a huge problem for me. Soon, she had drawn the attention of half the town and they were rummaging thru the garbage.
This is a problem because the remaining plants are 75% off and I desperately need to sell them. I herded the crowd out, letting them keep the plants they'd fought each other for. They called me all kinds of names. One little old lady swore in my face, wanting to know where I get off, treating her like this. I told her to get out of there before I call a cop and tell him she stole the plants.
I was not going to make her happy unless I gave her a cart full of free plants.
I still had other stores to attend to. All that was left to do was the sweeping. A lot of sweeping. They had changed out the young man who was helping me for a fresh one and I told him I thought he could handle the sweeping. He cheerfully agreed and I left to go to another store. I sat in my car, with my air running, hoping to dry certain areas of my shirt. I heard a car horn and turned to look.
My old lady friend threw up her middle finger at me. It was so bent and disfigured from arthritis that I didn't recognize the gesture at first. She gunned her Oldsmobile 88 and drove away. With her free plants.
She'd left her dignity somewhere else, I'm afraid.
At least I have this outlet. I can type this and let it go, as I do. There. It's gone.