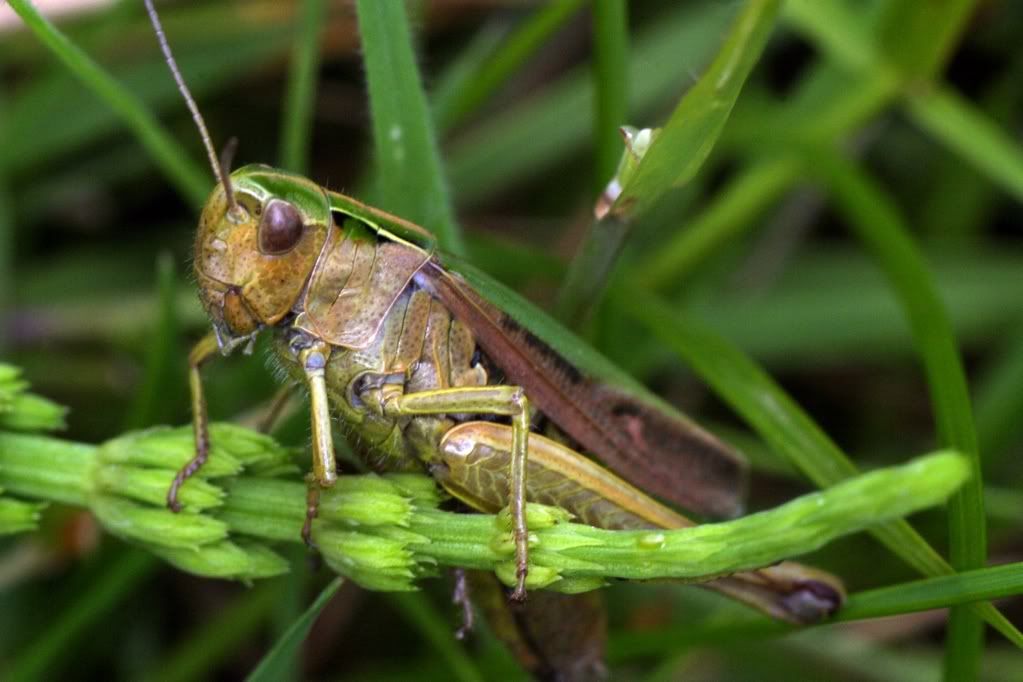 This is a terrible thing to have in your garden. Worse if there are 50 or 3200. It's not easy to find information on controlling grasshoppers in home gardens because as the University of Illinois Extension will tell you, "if given a choice, grasshoppers usually avoid tomato leaves."
HA!!!
I have so many grasshoppers, it makes me sick to think of those bulging eyes staring at me while I throw their vandalized tomatoes in the compost. They take one bite out of a cherry tomato. Just one bite. Then, they move to the next tomato in the cluster. One more bite. I am not fast enough with my pruners to cut them in half, like I do the hornworms..(one old Southern gardener told me the green guts would attract birds and they would eat the other hornworms).
The grasshopper is smart! It hides behind the stem or the tomato. If you come in from the right, he
moves to the left and vice versa.
If there's anything worse than 50 grasshoppers, it's 50 grasshoppers that are smart.
There is a legend, based in Minnesota of a fabled grasshopper killing saint. His name was St. Urho.
Depending on which version you believe, the words that St. Urho shouted to banish the plague of grasshoppers from his country, "Heinasirkka, heinasirkka, menetaalta hiiteen," may mean "Grasshopper, grasshopper, go to hell!" or "Grasshopper, grasshopper, get the hell out of here!"