It is said you learn something new everyday. I guess I can agree with that. You wanna know what I learned that is incredulous to me??
There are people out there who buy one marigold plant, one petunia, and one seed geranium every year from the same garden center. They plant these plants in the same container that has the same dirt. 20 years old.
I was incredulous when a sweet lady told me this today. I told her if she could get the pot in her car and bring it to me, I would plant it up for her, something different. Her husband was in the extended care at the hospital, so she didn't have a lot of time to garden, but she wanted to get her flowers, she told me.
I doubted very much she would take me up on this offer, but today she came in. She told me the mailman helped her put the pot in the trunk of her car. (the fact she was driving kinda frightened me...)
She was a quiet older lady who smelled of
Este
Lauder's White Shoulders and Windex. I wanted to sit down with her and eat those big Nabisco Shredded Wheat biscuits and pretend she was my
Grama
....
I walked over to the car and expected to see a large patio planter. There, surrounded by newspaper, was an eight inch pot with grey potting soil in it. It was one of those old clay pots that are heavy and it didn't have a drainage hole. I filled it with new potting soil from a broken bag from my store and potted it up with Tidal Wave Silver and Wave Purple petunias. She was really happy.
Then, I got one of the new plastic pots with fake
verdigris
on it and really did a number with it...
I put in purple fountain grass,
plectrancanthus
,
nemesia
, and
lantana
. Big bright colors so she could see it from her window, but also fairly drought tolerant, so she wouldn't be disappointed if she missed a watering.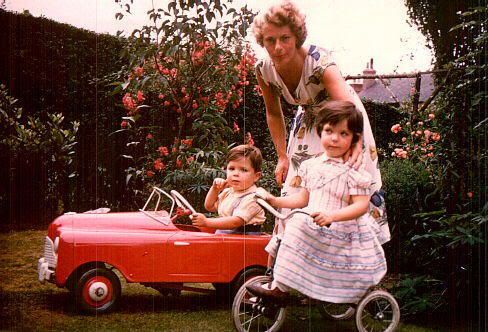 I didn't tell her I wished she was my Grama, I just tried to make her happy. I know this was somebody's Grama. I just want them to know that I took care of her, today. If you come across my Grama, please do the same.