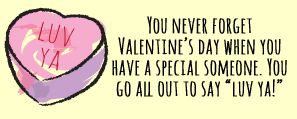 discover what candy you are @ quiz me
Jeff and I decided not to buy each other anything for Valentine's Day. We always get the kids some cute stuff they can use, but he has always gone waaaay over board and I try to keep up, but I am terrible at buying presents.
So, we decided to buy each other a fresh seafood dinner---
IN BOSTON!!!!
He called on Friday and told me he'd made the arrangements and I am going with him to Boston for the
YAY!!! I printed my entry ticket for the flower show and I am ready!!!
As a Master Gardener in Memphis, I always volunteered with the Mid-South Flower show, we had about 150-175 vendors.
The New England Flower show has almost 2000. I will visit each and every one of them!
Any of my blogger buddies gonna be in Boston in March!!???
I got this picture off my ticket, I didn't steal it!!