3
2°
Light Snow

This snow had terrible timing. Really. I made 8 dozen cupcakes for the bake sale and guess how many I am stuck with? 6 dozen.
The storm was supposed to come and shut everything down. It really looked like something, Saturday night, on the way home from church. The wind had blown huge drifts into the road, driving the Suburban home felt more like driving a boat thru another boat's wake. We went 20 miles an hour, with Jeff following me in his car. We have to make a change before next winter. This truck is not good for the winter.

Saturday, I went to the Gardener's Pathway Workshop at Kishwaukee College. I went because I thought I might meet some local gardeners, or at least find out about the local scene. It was a complete bore, for the most part.
I liked the opening, the speker was Jim Nau from Ball Hirticultural Company. He gave a wonderful presentation on the introduction of AAS annuals and how seed is perfected. I like it a lot.
The next workshop was supposed to be Good Design with Illinois plants. May I offer a bit of advice to any speakers out there? If you are slated to give a garden talk, you must bring a slide presentation of some sort. You don't have to have a slick PowerPoint, you can bring the old Kodak projector-- but you must bring pictures. You cannot give a garden talk without pictures, for crying out loud. This guy was terrible. It seemed like someone said to him, hey, in five minutes you have to give a garden talk.
He was ill-prepared and couldn't remember the names of the authors or their books. He referenced Dirr
and
Tracy DiSabato-Aust, (even making sexual comments about the latter), but he said he couldn't remember their books and we could find out online. Now, in my book, if you don't know the name of Micheal Dirr's book, you have no business giving the talk.
The end.
I got up and walked around during the rest of his talk. I met some ladies from the local garden club and walked back into the talk while they were giving out coupons and magazines. YaY!!!
The next talk was the editor of Chicagoland Gardening magazine. He got up there and said you could fill a thimble with his garden knowledge.
WHAT!!??? What is this?? Did the regular speakers not show up?
Well, at least he had a PowerPoint. He also let out 20 minutes early.
So, I went to lunch. I had a wonderful sandwich with broccoli soup and fresh fruit. By the time I was done, everyone else was coming to eat. So, I got up and walked out to the lobby. It's a new building with a lot of windows, very modern and open. In Malta, Illinois, you are in the middle of corn fields. I could see that storm coming from Iowa. It was amazing. I watched those clouds roll towards us for about 10 minutes. I looked up and saw my husband coming thru the lobby.
I did a double-take. Why would he be here?? It must be my imagination.
Nope. He was here and he brought my winter coat. I don't like to wear coats and it has been in the high 30's, low 40's, so I went without. Well, the temps plunged during the day and Jeff was worried about me!!
By that time, people were starting to gather for the door prizes. A rep from Klehm's Song Sparrow Perennial Farms was giving away PEONIES!! of all things! I stood at the door and prayed my heart out for a peony. I clutched my little ticket until I had the numbers memorized. They called the number before mine and after mine, but not mine.
No peony.
Time to go to the last workshop, I was walking thru the cafeteria to cut thru to the other side and I over-heard the rep saying,
"I am sorry you didn't win a peony. We are giving them out at my next workshop, are you going to the Azaleas and Rhodie workshop?"
She shook her head no, but I stopped in my tracks and turned around. I sat down in the nearest chair and waited for the man to finish speaking. Then, I followed him to his class. I wasn't supposed to be in his class, but I wanted a peony so bad!!
We were almost to the door of his classroom when he turned around and said to me,
"Are you coming for the free peony?"
I almost died.
"I know you heard me tell that woman I was giving them out. Is that why you are here?"
I told him yes. He said, "would you mind tending the lights for me, then?"
WHEW! I thought he would throw me out! I didn't mind tending the lights for a peony. He turned out to be the best speaker.
I got a Port Royal Peony!!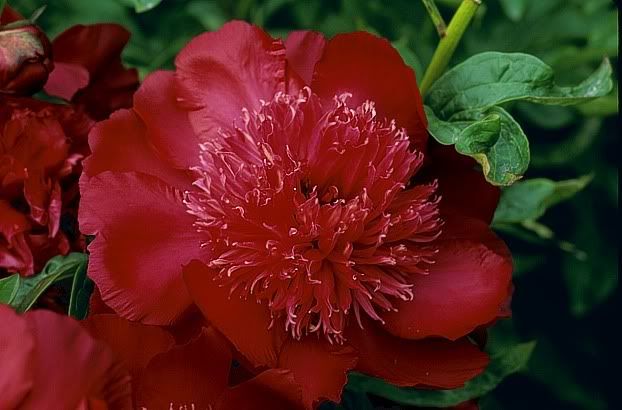 Elegant

and sweetly scented deep wine red Imperial with a wine red mass of

staminodes

in the center; a dark exotic bloom to mix with your cut flowers; about 28" tall,
$26.00


That was the best part of the whole day. After the class, I put on my winter coat and walked to my car. Have you ever walked in the middle of a corn field in winter? Well, let me tell you, it's windy. Extremely windy! You have never seen wind like this, before! As I held my hood on my head, I thanked God for my husband. It was a long windy cold walk to the car. It would have been far worse without my coat! Even worse without a peony!!
The peony sits in my crisper until Mid-March and I will dig it a nice home!
As the snow continues to fall, I will leave you with this thought: