That is the title of the book for December in the
Garden Bloggers Book Club
.
I didn't buy or read the book,
My Favorite Plant
edited by Jamaica Kincaid, but Carol says that to participate, we only have to post about our favorite plant. So, that's what I will try to do.
At first, I thought I would have to write about Allium. Zoey has the most amazing allium, and I was so interested in it. I thought it looked like something out of Dr. Suess! I had to have it. I looked on the internet and bought some bulbs of it, but lo and behold, there it is in my Wal-Mart!! That was incredible! This amazing plant? At Wal-Mart? So, I bought more of it.
The truth is, I have never had any allium, yet. I planted it last fall, for this spring's bloom. So, I won't choose allium as my favorite plant.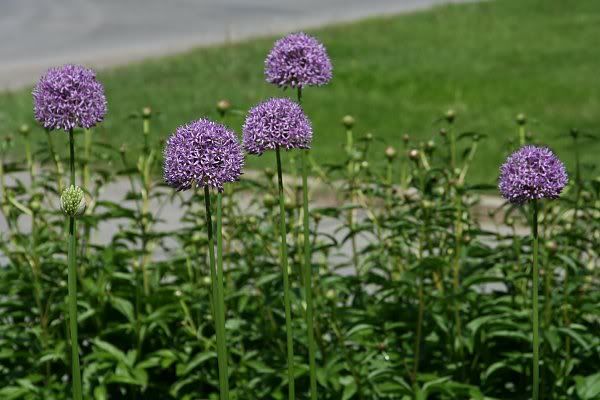 I think I must go with Peony. Why? It's something I cannot have, I guess. Really, I have never had a peony bloom, either. They say that your sense of smell can jog your memory. I do know that when I smell tonic water, I remember a night we thought we were so mature and we drank gin and tonics until, well, let's just say that I have never had another sip of gin in the 30 years since that memorable night....Tonic water will take me right back there!
Peony is another is another scent that will bring back memories. Back when I lived with my Grampa.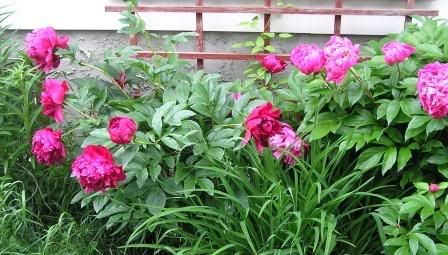 It seems there was always a vase of these on the table.
Grama would yell and holler, "Everett, these dumb flowers bring ants everywhere!" Grama and Grampa were married to each other when they were in their late 30's, a second marriage for both. Just about the time they were married, my mother dropped off the face of the earth and my grandparents took me in. I was about 5, too young for Kindergarten, but old enough to remember somethings. I remember people commenting in the Jewel, what a lovely daughter! and they would just say thank you. They took me to the park and pushed me on the swings. We went to the Flame Restaurant on Joliet Road and the candle light made the silver gleam and I thought we must be very rich. They took me to Wisconsin on vacation where Grama and I drank Cokes in a bar and listened to "I Never Promised You a Rose Garden" over and over. She promised me she would always be there.
Grampa had a fantastic suburban garden. He grew his own mushrooms and bleu cheese. He had grapes and made wine. I would pull those purple grapes off the vine and squeeze them out of their skin onto my tongue. It was slippery and you had to remember to spit out the little seeds.
I remember he and I planted a Blue Spruce in the corner of their lot. I helped him weed under the yews as we listened to Harry Caray on the radio. Grampa like to sterilize his dirt in the oven, but Grama wouldn't let him. It was my job to get Grama out of the house while he could do this!! We were partners in crime!
Always, the peonies were there. The ants, too. When I learned about the peony-ant relationship in Master Gardener school, I thought that was the coolest thing! They needed each other.
In my mind, I stayed with Grampa and Grama for a long time. As an adult, I know it was a matter of months.
In the years to follow, I would have one of those Mommie Dearest childhoods. No peonies. Not even ants. Even though they knew we were being abused, my grandparents said nothing and did nothing. I can't say that I blame them, really. By the time it was out of control, there were four of us kids and we were starting to show the effects of abuse. Not an easy bunch to handle.
Eventually, I moved away, came back, moved away and then I came back. With a loving husband and two children. We tried to be a family, but when we found ourselves tip-toeing over drunks to get to the kids' presents, we pulled away.
Just a few years ago, I was working in the kids' school as a lunch lady. One of the aides brought in a huge bouquet of flowers in a coffee can. Nothing special, really, she said, just some old flowers out of my yard...
When I walked by, I caught a whiff of those flowers and those grandparent memories hit me like a truck.
What are these flowers?!! I asked my co-workers. They told me they were peonies and I started my peony quest.
I am still on that quest to have a peony bloom in my yard. I will be so happy when I have one!
So, my favorite plant is the Peony. Doesn't it just
look
like a nice plant??!!