I have been out of commission, literally. Something is wrong with my neck and I can barely swallow and cannot lie on my back without suffocating....I was at the hospital for tests and they haven't found anything, but back to the DR. today.
We are going to Racine, to spend the holiday with Jeff's brother and his mother. We are all bringing the sides, and Grama, who suffers from emphysema, purchased a honey-baked turkey!
I pray I have patience with my little nephews, they aren't taught manners or anything like restraint and have the run of the house.
(Not the way I have raised my kids, by the way!)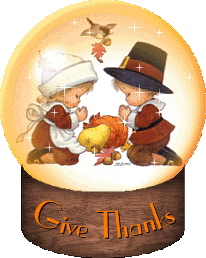 For flowers that bloom about our feet;
For tender grass, so fresh, so sweet;
For song of bird, and hum of bee;
For all things fair we hear or see,
Father in heaven, we thank Thee!
~Ralph Waldo Emerson