I had never been to a corn maze before, never even heard of it, before our move to Northern Illinois!! I took several of the seventh graders to a corn maze, yesterday! We had temps in the 50s and loads of sun, but it was still chilly until we got into the maze!!
They take an aerial photo of the farm and then they go in and cut out a maze. This is what the maze looks like from the air:
It is 10 acres and would take a regular adult about an hour to get thru. You see that little box near the horse's foot? That's the entrance. They hand you a map and you are on your own! The corn is about 8 feet tall, you can't see over it, you just follow your map, I guess, and start wandering around!
Well, I was in the group with the girls and we were right in front of the group of the boys. As you wander thru this maze, there are several ways to approach it. You can follow your map and methodically try to figure it out. That would take about an hour.
OR you can run, screaming and squealing, trying to beat the boys.
Guess which method we used? It took us 22 minutes to get thru that thing, those girls running the entire way, with me behind them, trying to keep them in sight.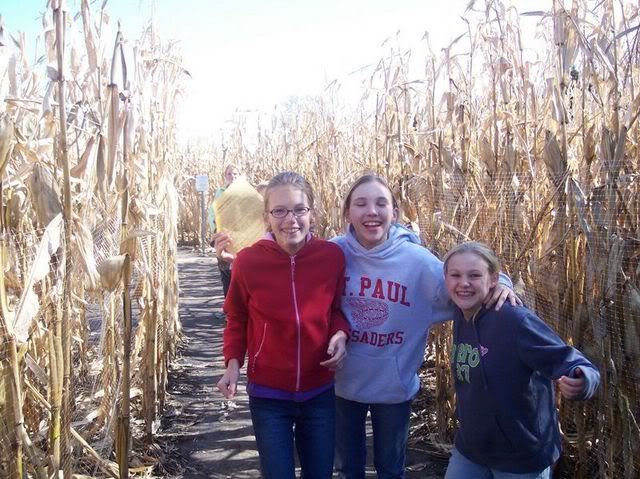 We won!!!
They ran thru that thing with the boys on our heels, trying to find us, the whole way. I would keep shushing the girls, telling them if we aren't squealing, they can't find us, but the suspense of not being able to see the boys, but hearing them on our tails was too much and they would start screaming again!! It was kind of unnerving, running thru the corn, getting caught up in the race, and not being able to see what's around us!!
The boys took the loss like most boys, countering with reasons why they would have won and why they
thought
we cheated...
One boy even cried. He's 13 years-old and became so upset at the loss that he ran to his mom, who did not go thru and tearfully pleaded their case. It made me sick.
If that boy cannot accept that loss, what's going to happen when he doesn't get his first job? The first college choice doesn't accept him? His first girl? ugh...
That's the kind of mom that pays for grades, and gives cash incentives to compensate for working full time and for being emotionally unavailable. This is what happens when the kid has had a mom who interferes on his behalf in every case. His friend won't let him use the red firetruck? The mom is right on top of him, making the other kid share. See?? The kid hasn't seen rejection or failure, so he can't handle it. That is a recipe for disaster....
It's about 40 and raining, today, of course. I still don't have the allium in or the red tulips and white crocus. I have read on some boards where if you don't get the tulips in by Oct., they won't come up....yesterday would have been perfect, but, of course, we had an aMAZEing time!!
So many of you have wonderful family histories. It makes me jealous. I had a terrible childhood and have very little happy memories or heirlooms. So, I have decided to create a garden with memories. It's not hard to do, I have discovered.
Yvonne's Salvia
Sam and Yvonne. They live in Massachusetts and have been sharing the seeds to that beautiful plant behind them for three years. All they ask for is a note telling about you and where you are gardening and how you will use the seeds!
I wish Yvonne and Sam where my grandparents!! I have sent away for the seeds...
Sometimes this kind of gardening is called heirloom. Really, for me, it's not the age of the plant or the age of the strain, it's the memory and the message the plant sends.
I watched my hero, Allan Armitage, on the TV last night. They asked him why he grows the common red poppy. This was his response, very touching:
In Flanders Fields
By: Lieutenant Colonel John McCrae, MD (1872-1918)
Canadian Army
IN FLANDERS FIELDS the poppies blow
Between the crosses row on row,
That mark our place; and in the sky
The larks, still bravely singing, fly
Scarce heard amid the guns below.
We are the Dead. Short days ago
We lived, felt dawn, saw sunset glow,
Loved and were loved, and now we lie
In Flanders fields.
Take up our quarrel with the foe:
To you from failing hands we throw
The torch; be yours to hold it high.
If ye break faith with us who die
We shall not sleep, though poppies grow
In Flanders fields.

The idea for the Flanders Fields Memorial Poppy came to Moina Michael while she was working at the YMCA Overseas War Secretaries' headquarters on a Saturday morning in November 1918, two days before the Armistice was declared at 11 o'clock on 11 November.
The Twenty-fifth Conference of the Overseas YMCA War Secretaries was in progress. On passing her desk, a young soldier left a copy of the November Ladies Home Journal on Moina's desk. (He was the son of A G Kneble, Executive Secretary to the War Personnel Board of National War Workers Council, the governing board of the staff of the YMCA Secretaries for Overseas.)
At about 10.30am, when everyone was on duty elsewhere, Moina found a few moments to read the magazine. In it she came across a page which carried a vivid colour illustration for the poem "We Shall Not Sleep" (later named "In Flanders Fields") by the Canadian Army doctor John McCrae.
Reading the poem on this occasion - she had read it many times before - Moina was transfixed by the last verse - "To you from failing hands we throw the Torch; be yours to hold it high. If ye break faith with us who die, we shall not sleep, though poppies grow in Flanders Fields."
In Moina Michael's book 'The Miracle Flower' she described the experience as deeply spiritual, and she felt as though she was actually being called in person by the voices which had been silenced by death.
At that moment Moina Michael made a personal pledge to 'keep the faith' and vowed always to wear a red poppy of Flanders Fields as a sign of remembrance and as an emblem for "keeping the faith with all who died".
Compelled to make a note of this pledge she hastily scribbled down a response on the back of a used envelope, entitled "We Shall Keep the Faith".
We cherish too, the Poppy red
That grows on fields where valor led,
It seems to signal to the skies
That blood of heroes never dies
Seems like I will have lots of red coming into my garden, next year!!