Several have emailed me, asking about what I do specifically. It's a question I have been asking myself, as well, recently.
My job is not an easy job, physically. I am unloading trucks, pushing carts thru hot asphalt parking lots, lifting patio pots, and moving thousands of flats a day.
I love that part!
It's the
people
part that has got me down.
It is my job to go into the garden centers that feature our plants and follow up with the employees there, being sure they are in the right place, tossing old plants, helping with merchandising, those kinds of things. Most of my stores have been great to work with. I have met some awesome people and I look forward to seeing them every week.
It's the one store that gave me a negative review that is sticking with me. A tiny store that doesn't want a garden center. I haven't seen the woman who gave me a bad review there for 2 years. I cannot figure out what went wrong.
This is their idea of merchandising: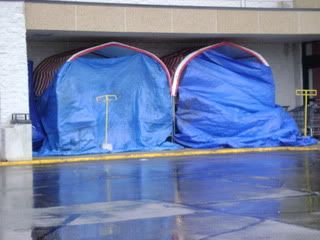 It has forced me to question whether or not I want to continue doing this job.
I am off to that store, this morning. It's the only one I drive up to and feel uncomfortable, unwelcome.
We spent the weekend at the Asics challenge volleyball tournament at Navy Pier.
Clipped boxwood, allysum, Hamlin grass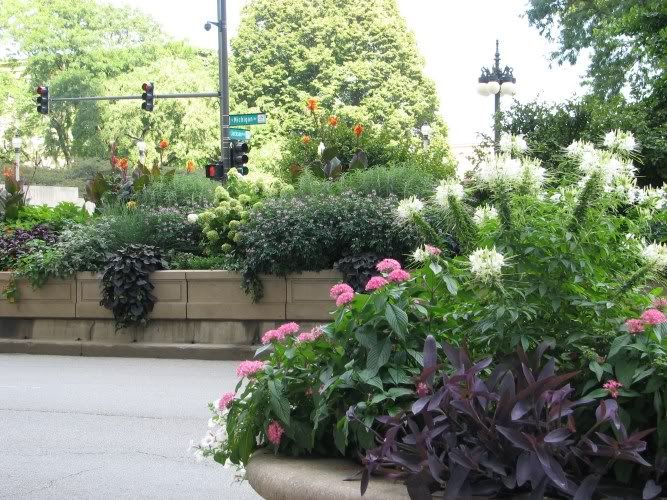 White Cleome, pink lantana, purple wandering jew
Navy Pier
It was beautiful there, but I am glad to be home. I was so dissappointed, looking at the garden when I got home. I am not happy with it. At all!! It looks like an overgrown jungle of leaves, very few blooms at all. You wouldn't think you'd be having trouble with no blooms in the mid of June!!??
Don't you hate it when nothing seems right!!??