This was our turkey, posing with Uncle Roger. Grama bought it at Honeybaked Ham. It cost her well over $50.00 and I thought it was dry and salty. I can go with dry, but salty will get me every time!!
We told Grama we wanted to go with every day wear. Normally, we bring out the good stuff on Thanksgiving and really have a nice table with crystal and silver and china. Why did we do the paper napkins and everyday wear?
Kevin

Brian
It turned out to be a good thing, the plates went right into the dishwasher and the flatwear did, too! I was glad.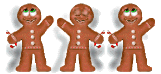 So, that was the turkey and the dinner on Thanksgiving....but it brings me to something that is bothering me to no end. It is something that has happened year after year....
My sister-in-law is a slacker. Her kids run the house, tearing stuff up while she sits and drinks her wine. Grama finally has to yell at one of the boys and then SIL will get up or ask the boys to stop. After dinner, (a dinner she did NOT help cook), she gets up and goes to sit on the couch.
GRRR!!!
I cannot tolerate this, year after year!! I have spoken to her husband, my husband, Grama, and everyone else who would listen!! So, I found the perfect present for her:
You know what she would do? She would put it on and proudly parade it around, laughing like she was so cute...
Oh, this is getting ugly.
Garden Wandering Sandra, Thank you for the card!!! You are very thoughtful. You make me wish I were still in the mid-south!!